Teach For America at East Carolina University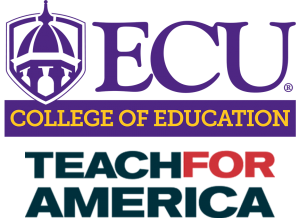 East Carolina University's College of Education is proud to maintain our longstanding collaborative partnership with the Teach For America (TFA) program, impacting hundreds of teachers and thousands of students throughout North Carolina schools and districts. The TFA at ECU program is committed to making your NC teacher licensure journey accessible and affordable so that YOU can amplify your impact on the lives of children. We look forward to serving you as you teach, lead, and inspire K-12 students of North Carolina!
TFA at ECU Program Details
Course Delivery: 100% online
Length of Program of Study: 4 semesters over 2 academic years (Year 1: August-May & Year 2: August-May)
Total Program Cost: $1705 (for CM's qualifying for in-state tuition by Academic Year 2; additional Praxis/Pearson and edTPA fees may apply)
Financial Aid Options: AmeriCorps funding and payment plans are available for credit-bearing courses in Academic Year 2
Participants are required to:
Secure and maintain official affiliation as a Teach For America Corps Member (verified by TFA)
Secure and maintain a TFA-approved lead teaching position at an NC public or DPI-approved charter school (verified by Form RL)
Meet content qualifications to be eligible for a Residency teaching license in alignment with the teaching position (verified by transcripts/test score reports)
Hold a conferred bachelor's degree from a regionally accredited institution with a baccalaureate GPA at or above 2.7 (verified by baccalaureate transcripts)
Maintain an ECU GPA at or above 2.7
Submit the ECU "Intent to Affiliate" form prior to the May 19th deadline (Spring before TFA service in NC begins in Academic Year 1)
Submit the ECU Admissions "Post-Baccalaureate Teacher Licensure" application prior to the July application deadline (Summer before credit-bearing courses in Academic Year 2)
Successfully complete all SBE-required licensure examinations prior to enrollment in TCHR 4992
Successfully complete the edTPA external performance assessment within the TCHR 4992 course and scheduled term as identified by the TFA Corps plan of study
Supplementary Web Resources
Licensure Areas
| Licensure Areas | |
| --- | --- |
| Art K-12 | History/Social Studies 9-12 |
| Birth through Kindergarten | Math 9-12 |
| Elementary K-6 | Middle Grades: Lang. Arts, Math, Science, and Social Studies |
| English 9-12 | Science 9-12 |
| Family and Consumer Science 7-12 | Spanish K-12 |
| French K-12 | Special Education General Curriculum K-12 |
| German K-12 | Special Education Adapted Curriculum K-12 |
| Health/Physical Education K-12 | Theatre K-12 |
Common TFA acronyms for reference
| Acronym | Respective Term/Relation |
| --- | --- |
| TFA | Teach for America |
| ECU | East Carolina University |
| NC | North Carolina |
| CM | Corps Member (of TFA) |
| DPI | Department of Public Instruction (of NC) |
| RL | Residency License (related to Form RL) |
| GPA | Grade Point Average |
| SBE | State Board of Education (related to testing) |
| EPP | Educator Preparation Program (ECU) |
| edTPA | Referring to the required external performance assessment |
| "licensure" | Referring to the DPI-issued Teaching License |
| "affiliation" | Referring to the EPP enrollment requirement |
| "credit-bearing" | Referring to courses requiring ECU institutional admission |
For more information, please contact Allena King, TFA Coordinator, at kingal23@ecu.edu or 252-328-1143.
Information is subject to change without notice. Revised 2/24/23