Doctor of Education in Educational Leadership (Ed.D.)
Learn to lead, serve, and transform your educational environment when you complete your Doctor of Education at East Carolina University. Our EdD in Educational Leadership degree will expand your knowledge and help you address problems of practice in your workplace while also delivering innovation. Become a scholarly practitioner who prioritizes educational equity and social justice through collaboration as you work to improve the educational experience of all students.
An education doctorate program designed for your needs and goals
ECU's Doctor of Education program will prepare you to apply research methodologies to your practice as a senior education leader. We offer two concentrations to meet your career goals:
PreK-12 Administration
Higher Education Administration
Our unique program provides you with the opportunity to complete your EdD—including your dissertation—in just three years. Enjoy the flexibility of a hybrid schedule and complete most of your coursework online to more easily balance life's demands. You will be be a part of a cohort of peers within your concentration to provide you with networking and sustained support as you advance through the EdD program. Classes are held in the evenings to accommodate our students' work schedules. When in person classes are held, they will be conducted at an educational institution central to you and your cohort.
Students in the PreK-12 concentration with licensure in level I administration or supervision (principal's license) will also be able to complete through their coursework a portfolio of evidence for submission to receive an upgrade to their license (superintendent's license).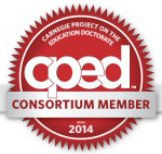 The ECU EdD program in Educational Leadership is a member of the Carnegie Project on the Education Doctorate (CPED) and embeds the CPED principles throughout the program. You can learn more about CPED on their website.
Learn More About Our Students' Experiences in the EdD Program
---
---
Watch Our EdD Program Informational Session
---
Why study educational leadership at ECU?
Launched in 1990, ECU's Doctor of Education program has a long history in preparing educational leaders. To ensure your ability to confront the challenges of 21st century education, we are committed to providing an educational leadership degree that meets the highest standards and your individual goals. Experience the following benefits of completing your Doctor of Education with ECU:
Cohort model for long-term support
Learn and grow alongside peers pursuing the same educational leadership degree concentration. Intimate cohort sizes enable you to build relationships that result in lifelong collaboration and support. We also offer an international Ed.D. cohort option for students outside of North Carolina.
Reduced tuition for greater value
Enjoy lower tuition—at distance learning course rates—for greater value since classes for ECU's doctoral degree in educational leadership are held off-campus and online.
Study abroad option for an expanded worldview
Learn to think globally when you participate in an optional study abroad program as part of your coursework. Travel to another country with your peers and faculty, where you will complete a service-learning project at a school and have the opportunity to visit K-12 schools, colleges, and universities there.
---
Courses you will take in the Doctor of Education program
Engage in core curriculum, research-focused courses, and content specific to your concentration area. Along the way, you will benefit from the guidance of ECU faculty with experience as educational leaders as you examine topics that include:
Leadership theory
Human resource development
Finance
Organizational theory
Policy analysis
Planning studies
Curriculum and instructional leadership
Political systems analysis
Apply this learning to develop your dissertation, in which you will address a problem of practice in your own educational institution involving an issue of equity and social justice.
Learn more about the valuable content you will explore as part of ECU's education doctorate program in our course catalog.
---
Hear from our Doctor of Education students
"The East Carolina University Ed.D. in K-12 Leadership program provides an opportunity for established professional educators to strengthen their leadership aspirations through the rigorous engagement of real-time curriculum content and research-based application. As a North Carolina public school superintendent, the program has advanced my professional skillsets through a 3-year cohort model, with a capstone dissertation in practice that is reflective of proven research-based, scholarly practices that may be replicated in the school setting. The faculty is purposeful in developing authentic, life-long relationships with students as well as personally investing in our academic success. I will be forever grateful for their professional commitment to my personal and professional growth."
—Matthew Cheeseman, Ed.D. '22
Superintendent, Beaufort County Schools (Washington, North Carolina)
---
What can you do with your doctoral degree in education leadership?
Be ready to assume a senior leadership role—or add value to your existing position—with an EdD degree from East Carolina University.
Advance your standing with an advanced educational leadership degree
Whether you work in the PreK-12 or higher education environment, the additional knowledge and skills you will gain as part of ECU's education doctorate degree program can propel you forward.
For example, as a PreK-12 student, you will develop District Service Leadership Projects (DSLPs) as part of your coursework—analyzing your school district's policies and practices—which will qualify you for North Carolina's superintendent license.
While licensure does not apply for higher education, you will be well-positioned for advancement within your career into senior-level positions—from admissions director to college president.
Where are Doctor of Education program graduates working?
East Carolina University graduates with a Doctor of Education hold senior-level positions in school districts, community colleges, and universities statewide.
The average school superintendent earns over $55,000 more per year than that of a school principal, according to Salary.com. Meanwhile, the U.S. Bureau of Labor Statistics reports the number of college administration jobs will grow at an average rate of 8% before the year 2030. Enhance both your personal and professional worth with a Doctor of Education from East Carolina University.
---
Get started on your doctoral degree in educational leadership
Take the next step toward earning your education doctorate. We have the resources to answer all your questions and help you get started on your path to becoming—or enhancing your value as—an educational leader.
---
---
Programs related to educational leadership
---
Accreditation for the Doctor of Education program at ECU
East Carolina University is accredited by the Council for the Accreditation of Educator Preparedness (CAEP), demonstrating our commitment to high standards for your doctoral degree in education. We also maintain program memberships for the University Council for Educational Administration (UCEA) and the Carnegie Project on the Education Doctorate (CPED) out of a strong desire to collaborate with other institutions for the greater good of education for all.