A Collaborator at Heart
An Unwavering Spirit Fuels Educator's Passion to Serve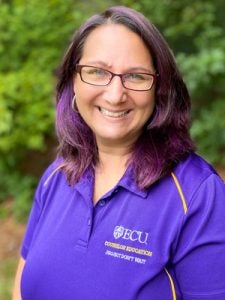 Kristen Cuthrell, EdD
Director, Rural Education Institute
East Carolina University
Greenville, North Carolina
Department: Elementary Education and Middle Grades Education (ELMID)
Kristen Cuthrell began her story at East Carolina University as an assistant professor in elementary education. She since has worked as elementary education program coordinator and the department's associate chair.
She's a seasoned researcher, too, having served as a co-principal investigator on a $9 million U.S. Department of Education Teacher Quality Partnership grant, among others.
Today, Cuthrell is director of the Rural Education Institute (REI) in the College of Education. The institute focuses on positive transformation in students and families from rural communities.
Through it all, she has remained a collaborative educator at heart — one who is committed to living out a mission of teaching, leading and inspiring while contributing to the community.
"I believe in the collective enterprise of our college," she says. "In difficult times, the people of the COE are its strength, and this is especially true in the world of COVID and for me in my personal journey."
That journey led Cuthrell and her family to establish Hannah's Heroes of NC in memory of Cuthrell's daughter, who died in a car crash in 2017. The organization focuses on the importance of exploring interests, nurturing growth and instilling confidence in children of all ages.
"Hannah was a 10-year-old little girl that tried a bit of everything, all the while spreading kindness through her smiles and her friendships," Cuthrell says. "Our vision is a kinder community where all children are able to explore what excites them and grow their confidence. We do this through scholarships, service projects and community grants here in eastern North Carolina."
Cuthrell's unwavering passion to serve guides her daily as she seeks opportunities to build up educators and students.
"I can be a dreamer, yet I find joy in attending to the details," she says. "If my colleagues and I don't have something we need to enact change — whether it is a system, infrastructure support or resource — we build it."