A Clear Perspective
Real-World Experience Sharpens Focus on Helping Rural Communities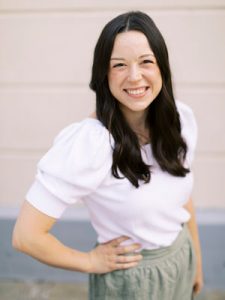 Katie Williford
Licensed Clinical Mental Health Counselor Associate
Cornerstone Counseling & Wellness
Raleigh, North Carolina
Department: Interdisciplinary Professions (IDP) — Adult Education, Counselor Education and Library Science
For Katie Williford, the notion of pursuing an advanced degree at East Carolina University became a family affair.
She attended ECU on an academic scholarship and chose the university largely because of its academic reputation and its affordability. And as she and her husband discovered, it also offered a place for both to pursue their master's degrees at the same time.
The experience has been a rewarding one.
"I have been a graduate student and graduate assistant for the College of Education during my time at ECU and have enjoyed the growth I have experienced in myself as a person and a student during my time here," she says. "My time at ECU has challenged me and affirmed that I am in the right field."
In her ECU journey, Williford has participated in Chi Sigma Iota, the international honor society of professional counseling and for professional counselors, and she served as vice president of the Counselor Education Association. Her experience also has been enhanced by grant work, and she has served at a rural elementary school providing counseling services, emphasizing trauma and disaster mental health.
She fondly remembers special faculty members who helped her gain confidence and clear perspective in her own work while sharing their personal experiences, wisdom and drive. Those traits, she says, created a space in her heart for rural communities and the need for service in these areas. She has leaned heavily on them in the face of COVID.
She says she is grateful for the opportunity to serve children and families in rural communities with in-school mental health services and family consultation while also supporting teachers during the challenges of the pandemic.
"I have been flexible in the way I approach clients during an evolving situation in the pandemic, from providing virtual services, to reaching out to students in quarantine, to providing education for teachers on mental health concerns such as ADHD," she says.