Student Outreach
At East Carolina University, we know that the best way to learn about us is to visit our campus. And there is no better opportunity than at our annual Fall Open House.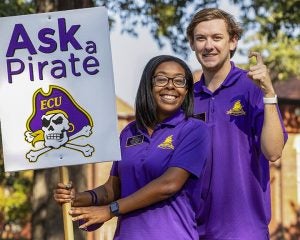 Meet ECU faculty members from a wide range of academic programs.
Attend special sessions, including admission information for freshmen and transfer applicants, exploring majors, financial aid, campus housing and dining, and current student panels.
Explore the residence halls and campus dining.
Enjoy a guided walking tour of campus.
ECU Open House
Saturday, October 14, 2023
Register for Fall Open House 2023 >
The College of Education will host extended open house sessions from 1-1:25pm and 1:30-2pm in Joyner Library's Teaching Resources Center (2nd floor) during Open House. There you can learn about the education degree options, scholarship opportunities, and the education living-learning community.
ECU Academic Days are a series of on-campus events for high school students, sponsored by the Office of Undergraduate Admissions in collaboration with various ECU academic departments. The ECU College of Education Academic Day events, offered as part of the series, will be held the last Friday of most months.
The in-person College of Education Academic Day will start with information from ECU Admissions and the Office of Financial Aid and will offer future prospective Pirate Teachers an overview of the Teacher Education program options at ECU. Participants will also receive information about Education Scholarships, the Education Living-Learning Community, interact with a panel of current Teacher Education faculty and students, and participate in a tour of Ballard Residence Hall.
COE Academic Events (Virtual in WebEx)
6:30PM-7:30PM
September 6, 2023
December 5, 2023
Brought to you by the ECU Office of Undergraduate Admissions & ECU College of Education
COE Event Contacts: Dr. Dionna Manning • manningd@ecu.edu | Catrina Davis • davisca@ecu.edu • 252-328-0067
Individuals requesting accommodation under the American with Disabilities Act (ADA) should contact the
ECU Department for Disability Support Services at least 48 hours prior to the event at 252-737-1016 (Voice/TTY).
---
I AM offers an inclusive space to connect with other prospective students from all identities — such as Latinx, Black, Indigenous, Asian, LGBTQ, first generation, students from low-income households and from rural counties.
Attendees will learn about the resources and organizations at ECU that are salient to their many identities.
Saturday, November 12, 2022
East Carolina University
Main Campus Student Center
501 E. 10th Street
Greenville, NC 27858
8:30 a.m. to 2 p.m.
Register: https://eastcarolina.my.salesforce-sites.com/events/targetX_eventsb__events#/esr?eid=a124z000005IUTGAA4
AVID Day @ ECU
---
The AVID Day @ ECU events are designed to provide information, resources and college access support to AVID students.
High School AVID Day and Middle School AVID Day are typically hosted during the fall and spring semesters.
During the event, students participate in a variety of workshops including topics such as college admissions, scholarships, career exploration, and financial aid. Participants will also experience a campus tour with an ECU Tour Guide. There is also an optional lunch (on your own) available in a campus dining hall for $8.29 per person (includes tax).
Each student participant must complete and submit an ECU Liability Release (Minor Participant) form and a Photography Release form. All Chaperones must complete an ECU Media Consent form and remain with groups at all times. Completed form will be collected at check-in on the day of the event. Groups who do not bring the properly completed forms for each person in in their respective groups on the day of the event, will not be allowed to participate.
 Register here: http://bit.ly/OPDAnnual
---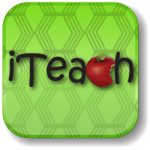 The College of Education will welcome prospective Teacher Education Pirates and share information about Teacher Education programs at ECU. Participants will receive information about admissions, financial aid, scholarships, the transfer process, alternate routes to obtaining a teaching license, the Education Living Learning Community, and other College of Education programs and services.  Join us and interact with our current students and faculty from the Pirate Education Nation!Meet with College of Education students, faculty and staff and learn about ECU Educator Preparation programs at the annual College of Education sponsored iTeach event!
Participants will be provided information about Education Licensure options, Scholarships for Education Majors, Admissions, Financial aid, and the Education Living-Learning Community. An optional campus and Ballard Residence Hall tour will also be available.
Join us and learn about our education programs, support and resources for students, and speak directly with current students and faculty from the Pirate Education Nation!
Prospective high school sophomores, juniors & seniors interested in Education degree programs at ECU are encouraged to attend this event. Family members and guests welcome to attend with prospective students.
Register here: https://ecu.az1.qualtrics.com/jfe/form/SV_3xTljLCK4BsgG3A
Online applications will be accepted between Nov. 1 – Jan. 15.   No paper applications will be accepted.  Scholarships are available for both undergraduate and graduate students.
To get started, visit ECUAWard at http://ecu.academicworks.com. Sign in with your Pirate ID and password. You first must complete a general application. You can find instructions here:  https://scholarships.ecu.edu/ecu-scholarships/apply-for-scholarships/.  The general application will ask you questions about your involvement in campus and community service activities, your future educational plans, career goals, etc. Your permanent mailing address, major, GPA, hours completed, etc. will be imported from Banner, so you will not be required to enter that information.
Once you have completed the general scholarship application, including your electronic signature, you may be prompted to "Start Applying" and shown a list of recommended opportunities that require further review to determine your eligibility.  Please take your time and look through this list and, if interested, "apply".
All applicants who submit a completed application will be notified of their application status via their ECU email account in the spring semester.