Welcome Dr. Elizabeth Hodge!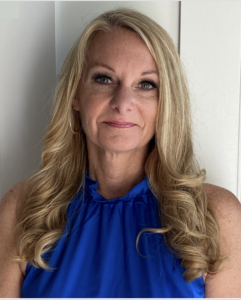 Name: Elizabeth Hodge, PhD
Title: Professor, Educational Leadership Department
Lead Administrator, NC New Teacher Support Program.
Hometown: Originally from New York, I have lived in North Carolina for 30 years and now call Beaufort my home. There is nothing better than kayaking among dolphins or fishing at Big Rock on the weekends.
Colleges attended and degrees: Ithaca College, Hospitality and Business; East Carolina University, Business Information Technologies; University of Florida, Higher Education Administration; Policy and Finance
What drew you to ECU's department of Educational Leadership?
What interested me most about the educational leadership department was the opportunity to interact with a diverse group of individuals with various backgrounds and perspectives. Our faculty's collegiality has provided me with the tools and resources to be innovative and creative in my teaching and research. I am excited to have the chance to work with people who share similar interests and goals.
---
What assets and value do you contribute to the EdD Higher Education Administration Concentration (ex. Specific leadership experience, research expertise, etc.)?
With over 25 years of experience in education and business, I bring a unique set of assets to the department. Being an inventor at heart, I approach my teaching and research with a curious mindset. Serving as Assistant Dean and Lead Administrator for NC NTSP, I have managed complex initiatives. This has allowed me to think critically and strategically about systems, processes, budgeting, and policy implications for our educational system. In any work environment I join, I bring organizational and community engagement knowledge. My passion is cultivating relationships and working together to find solutions that are beneficial to all parties. As a result, I am knowledgeable about the latest technological trends in the industry and am capable of integrating them into projects to achieve the best results.
Who or what has influenced you the most in life?
My parents and family have certainly influenced my personal and professional life, as have many others. In my experience, there has been no single person who has influenced me. Instead, it has been a combination of educators, business leaders, community members and engagement in professional organizations that have shaped the educator I have become.
So far in your career, what do you consider to be your greatest achievement?
For years, I have been driven by my passion for learning and leading individuals and organizations to achieve their full potential. Therefore, I'm most proud of the mentorship I have provided students, staff, and colleagues.
Which authors, books, or research did you find most influential and helpful during your career?
Books
---
Diffusion of Innovation, Rogers

Six Thinking Hats, DeBono

Greater than Yourself, Ferber

Lean Launchpad, Blank

Field Guide to Human Centered Design, IDEO

Entreleadership, Ramsey

The Fifth Discipline, Senge

Lean Startup, Ries

Think Again, Grant

Start with Why, Sinek

The Five Dysfunctions of a Team, Lencioni

Struggle to Survive, Honeyman (Dissertation Chair)
Podcasts
---
Coaching for Leaders

CEO School

HBR IdeaCast

Dare to Lead

Clear + Vivid

Make Me Smart