Student Spotlight: Natalia Figueroa-Bernal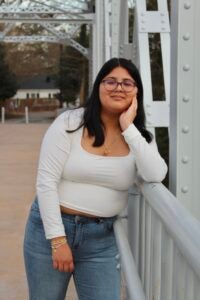 Briefly describe your current program: It is my first semester taking classes for my master's degree, so I am still getting a sense of the program. Currently, I am enrolled in introduction to epidemiology, biostatistics, and public health practice, and loving it so far.
What influenced you to pursue a degree in your current program?
I am interested in working for the state government or federal government to better the health and education outcomes of Latinos in NC so receiving my degree will equip me with the knowledge to effectively work with this population.
What do you consider to be the strengths of your academic program?
The professors and their courses are very organized. They lay out the expectations at the beginning of the semester and whenever questions arise, they are quick to help students out.
---
How do you hope this program will help you advance or pivot in your career?
I believe the public health program will equip me with the knowledge to better the health outcomes of Latinos and minority communities. And the education program will help me build upon my team working and communication skills. I will get the education and the skills to impact my target population. I get the best of both worlds!
Do you have any advice for others who may be interested in this program? 
Definitely connect with current students or alumni if you have any questions regarding the application process and in case you are having difficulty navigating your classes. No one knows better than someone who has already gone through the process.
What drew you to ECU's department of Educational Leadership?
I was drawn to ECU's Department of Educational Leadership by Dr. Marjorie Ringler who I got to know over this past year on projects to increase Latino enrollment at ECU. ECU is now considered a HACU university meaning that we are a part of the Hispanic Association of Colleges and Universities so Latino students at ECU can tap into resources such as scholarships and paid internships and amazing conferences from this valuable network. I am excited to let students on campus know about this resource and also help Dr. Ringler on expanding her network consisting of Dual Language Immersion Administration Certificate graduates and supportive teachers and administrators.
How has ECU equipped you to accomplish your goals?
ECU has helped me in so many ways. ECU has connected me to great professors to equip me with public health knowledge and the connections and opportunities in public health and other areas such as education and research.