Nichelle Shuck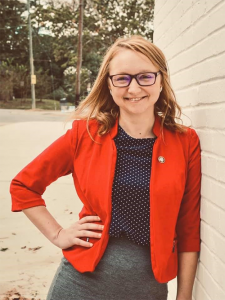 AmeriCorps Director
252-328-5703
Hometown: Zanesville, Ohio
Hobbies: When Nichelle is not serving, she enjoys spending time with her two cats and her rescue beagle named Gravy. She enjoys Pilates, yoga, taking art classes, gardening, camping and live music.
Colleges attended and degrees: B.A from Ashland University in Speech Communication, specializations in public relations, marketing, and entrepreneurship. Master's in Higher Education and Administration from Kent State University with specializations in College Teaching and Community College Leadership.
First Job: Ohio Campus Compact AmeriCorps VISTA /Associate Director for ECU's Center for Leadership and Civic Engagement.
Specializations: civic engagement, service-learning, community partnership development, national service, strength-based leadership, non-profit capacity building.
Years at ECU: 8
Special Moments in REI: Nichelle is excited to support national service within ECU's Rural Education Institute because she directly understands the power of national service. She believes that that our communities are filled with bright minds, open hearts, passion and potential. She reminded of this every day when she gets to connect AmeriCorps volunteers with amazing community partners, all with the same mission – To get things done for America!
What I love about ECU: Nichelle loves serving with her students and community partners. As a first-generation college graduate, she can relate to many ECU students in their journey. Growing up in a rural community in southeast Ohio, Nichelle has fell in love with the community partners she gets to work with at ECU. Nichelle believes in the three values – public service, regional transformation, and student success. Being able to help further these values every day is a blessing and honor. She also LOVES taking walks around ECU's beautiful campus and uptown area.