Partners in progress: Building teacher capacity in the pivotal early years
Contributors: Cameron Gupton, Bradley Sasser, Lisa Becker, Heather House
The North Carolina New Teacher Support Program (NC NTSP) is a leader in university-based induction support — a type of professional development program for beginning teachers — through the belief in and practice of transformative, intentional coaching to increase student achievement by improving beginning teacher effectiveness and retention. However, a program is only as good as the people it partners with each year.
Since the inception of the NC NTSP, Lenoir County has been a valued partner. In 2011, the East Carolina University region of the program supported three teachers at Northeast Elementary School in Kinston. The partnership between Lenoir County Schools and the NC NTSP has only grown over the last twelve years as instructional coaches have supported hundreds of teachers in their first three years in the profession.
Each year, the coaches and teachers spend countless hours working through the various facets of planning, instruction, and assessment while collaborating in professional development sessions to aid teachers in mastering the skills they need to impact all the students of Lenoir County.
In classrooms across the county, these exceptional educators embody the spirit of innovation, creativity, and compassion, fostering a nurturing environment where students thrive academically and personally.
Contentnea Savannah Success
One example is Emily Heath Cannon, a first-grade teacher at Contentnea Savannah School. Cannon has spent the past two years teaching at her alma mater, following in the footsteps of her mother, who is also a Contentnea Savannah School teacher.
Her work has inspired others to join the teaching profession, including her former assistant, who became a third-grade teacher at the school. Cannon builds nurturing relationships with her students and fosters a welcoming and loving classroom environment.
Briana Rogers, a fourth-grade math and science teacher, recently completed her third year at Contentnea Savannah School. During the past year, she focused on leveraging data to improve her students' educational outcomes. With this valuable information, Rogers successfully implemented effective small math groups and center rotations.
She also actively engages in extracurricular activities and prioritizes her professional growth by coaching the Contentnea Savannah School Science Olympiad Team and pursuing her National Board Certification.
Lynette Grady, a third-grade teacher at Contentnea Savannah School, just finished her first year in the profession. Grady has cultivated an incredible classroom culture where students feel respected and comfortable asking questions.
Before becoming a teacher, Grady served in the United States National Guard, completed a tour in Iraq, and worked as a teacher's assistant to another NC NTSP-supported teacher.
She wholeheartedly embraces the program's support, consistently seeking feedback and suggestions for improvement. Throughout the year, Grady has gained a deeper understanding of data analysis and utilizes multiple data points to guide whole and small-group instruction.
Middle Grades Award Winners
At Rochelle Middle School, Kaylah Blount, a sixth-grade math teacher, recently completed her second year of teaching and has received numerous awards and recognitions.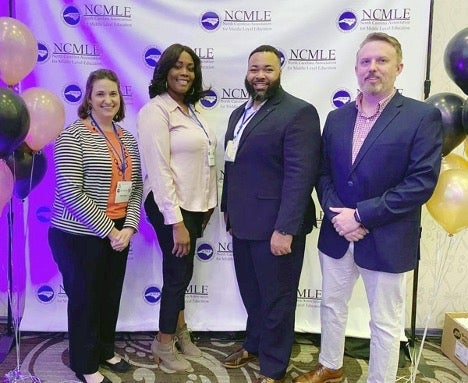 Blount has been named WITN Teacher of the Week, one of the 20 Under 40 Outstanding People of Eastern North Carolina, Margaret G. Gibbs 2023 Teacher of the Year, and selected to participate in the Rural Teacher Leadership Network Cohort.
She creatively incorporates social media into her lessons and has a substantial following on TikTok. She has also gained endorsements from Pepsi, Bloom, and Educational Fundamental Insights on the platform. Outside the classroom, she coaches basketball and advocates for the school, fostering strong relationships with students and staff.
Vinson Biggs is a sixth-grade English and Language Arts teacher at E.B. Frink Middle School who has recently completed his third year of teaching. Biggs has consistently strived to cultivate a safe and welcoming environment for his students while maintaining high expectations.
Biggs has invested considerable time in carefully planning his lessons, ensuring that they are purposeful and meet the diverse learning needs of his students. By doing so, he has actively promoted student achievement and growth within his classroom.
In recognition of his outstanding work, Biggs was honored with the 2023 Social Equity Educator to Watch award by the North Carolina Association of Middle Level Education.
Collaborative High School Experiences
At North Lenoir High School, Robert Waugh recently completed his third year of teaching. Despite the challenges of teaching a hands-on construction class virtually in his first year, he persevered.
Waugh has collaborated with construction companies across the eastern part of the state, providing his students with additional resources and employment opportunities. He also partnered with Lenoir Community College and Pitt Community College to expand the masonry program and offer more learning options.
Waugh has taken numerous students to statewide masonry skills competitions, resulting in increased Career and Technical Education certifications. Beyond his subject area, he actively supports the school community by driving buses and assisting with field trips. Waugh's dedication has driven remarkable growth in his program and made him a go-to supporter of the school.
Stacey Simmons is a math teacher at Kinston High School, entering her third year of teaching. As an East Carolina University teacher residency student, Simmons has been completing her licensure while teaching on an unconventional schedule. Instead of the regular three-block, one-planning schedule, she has taught all four blocks, splitting her planning time before and after school.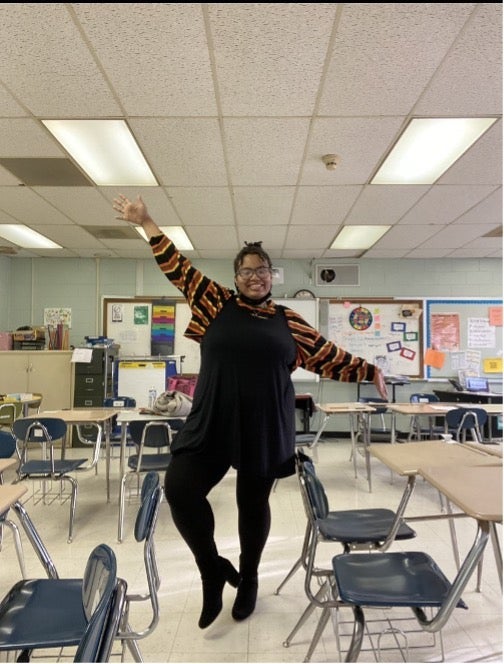 Simmons has shown remarkable growth as an educator throughout her two years of teaching. She has successfully planned rigorous lessons for all students and integrated engaging technology-based activities into her math curriculum. She has also fostered a positive classroom environment by building strong relationships with her students.
In addition to her teaching responsibilities, Simmons has taken on the role of chairing Kinston High's Anchor Club. Through this club, she has provided opportunities for dozens of students to engage in community fundraisers and outreach events, spreading joy to those they serve.
While Lenoir County has gained national recognition for producing several star professional athletes, actors, and musicians, it should also be known for its amazing group of educators who work, day in and day out, for the community's students.
The East Carolina University region of the NC NTSP looks forward to continuing to support the teachers of Lenoir County and growing the partnership for years to come.